ST-167 Digital and Analog Signal Detector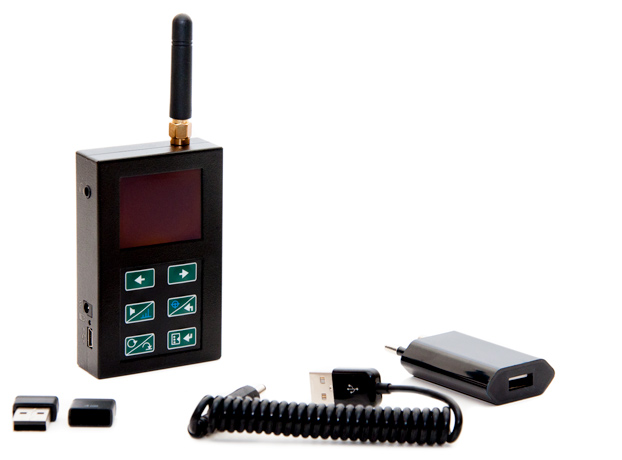 DOWNLOAD ST-167WR USERS MANUAL
ST167 "Betta" is developed for detecting and localizing analog and digital radio transmission based bugging (eavesdropping) devices.
ST-167 main features:
Selective reception up to 6 GHz.
ST-167 utilises sophisticated algorithms for detecting and identifying of transmission standards of digital data like CDMA 450, GSM, 3G, 4G, DECT, WLAN (2.4 and 5 GHz) and BLUETOOTH.
Analog signal frequency measurement.
SMS detection and logging mode.
24 hours monitoring with the creation of event database. Scheduling is available.
Special mode for GPS/GLONASS jammer detection.
Sound control (AM and FM demodulation).
Base station signal level indication GSM, 3G and 4G.
3G and 4G frequency correction depending on a country and cellular operator.
PC software for extended monitoring and analysis functionality.
ST-167 modifications:
ST-167 - regular version with no extra modules;
ST-167W - has extra dedicated WiFi networks and devices analysis and localisation module;
ST-167R - has dry relay contacts output and special algorithm to control jammers;
ST-167WR - has dedicated WiFi module and dry relay contacts output.
Detailed modifications description is available in the users manual.
On request, ST-167 can be supplied in a custom made protective Pelican case.
---
ST-167 Automatic mode
This mode automatically detects signals exceeding preset threshold level. Real time list of currently active signals with type and strength data will be displayed on screen. Event information will be logged into database for a later review.

Only necessary cellular signal bands can be selected. Switching-off unused cellular bands speeds up a scan speed.
Threshold level can be set for each band separately.
Mode can be activated based on a schedule.
---
ST-167 Manual mode
ST-167 allows user to monitor single band of interest. Signal power over time graph is displayed on the screen.

Available options:

Choice of single band of interest out of all available bands.
Set threshold level. Level exceeding preset threshold will be displayed in RED color on power over time graph.
Display spectrum of analog signal band.User can set analog signal band boundaries (from 60 Mhz to 6000 Mhz) and step interval in a range from 2Mhz to 20 Mhz. Setting example: 425 Mhz – 475 Mhz, step 1 Mhz.
Frequency of strongest analog signal is displayed on screen.
User can demodulate analog signal (AM/FM).
---
ST-167 Search Mode
| | |
| --- | --- |
| Can be used to localize signal source and demodulation. Under this mode ST-167 scans particular preset frequency band. Scan stops if threshold is exceeded. Signal frequency stays fixed and is displayed on the screen all the time, even if signal strength decreases, thus allowing finding a location of signal source. | |
---
ST-167 SMS detection mode
This mode allows user to detect SMS messages sent over 2G (900 and 1800) and 3G bands.

Following information is displayed on screen:

Signal strength of currently detected SMS message.
Signal duration.
Time and date of 3 last detected SMS.
Total count of detected SMS messages.
---
ST-167 Traffic mode (2.4 Ghz and 5 Ghz)
| | |
| --- | --- |
| This mode measures an intensity of any digital data traffic type in 2.4Ghz and 5Ghz bands. Results are provided in a range of 0% - 99%. Hence, a measure below 10% indicates a weak traffic activity whereas measures above 50% depict high traffic intensity. | |
---
ST-167 GSM and GPS jammer detection mode
| | |
| --- | --- |
| This mode detects GSM and GPS jammer activity. Detection is based on wide band emission present in two 900MHz and 1800MHz bands simultaneously | |
---
Event logging

User can choose desired bands, threshold levels and automatically record all events exceeding preset signal strength threshold level. ST-167 can be set to automatic event logging mode for 24h or more. Event log can be examined later.

Available options:

Select only desired bands of interest.
Set signal strength threshold for each band.
Combine short signals into single event. Minimum signal duration can be set by user.
Sort signals by time, strength, signal type and event duration.

Position of current record in the list;
Date and time of the event;
Event duration;
Signal strength and threshold level;
Signal band or frequency.
---
ST-167 PC Software

Included software package allows a full control of ST-167 over PC and also extends MONITORING mode functionality. A detailed cellular activity graph is displayed on PC screen. User can conveniently review all recorder historic data and monitor cellular activity in a real time. It's also possible to control ST-167 over LAN or internet connection.

Click on the image to view software screenshot.
---
ST-167 Technical characteristics
Frequency band
25 - 6000 МHz
Types of detected signals
CDMA 450, GSM, 3G, 4G, DECT, WLAN (2.4 and 5 GHz)
Threshold sensitivity, dBm
-80 (1000MHz)
-55 (5000MHz)
Frequency measurement accuracy, KHz
10
Average dynamic range, dB
65
Display
160х128 color OLED
Power Supply
Built-in Li-Pol Battery 3.6V (2.2A/h)
Maximum current consumption, mA
500
Operating time, h
4
PC interface
USB 2.0
Overall dimensions main unit, mm
90 X 54 X 21