ST-165 Cell Phone Detector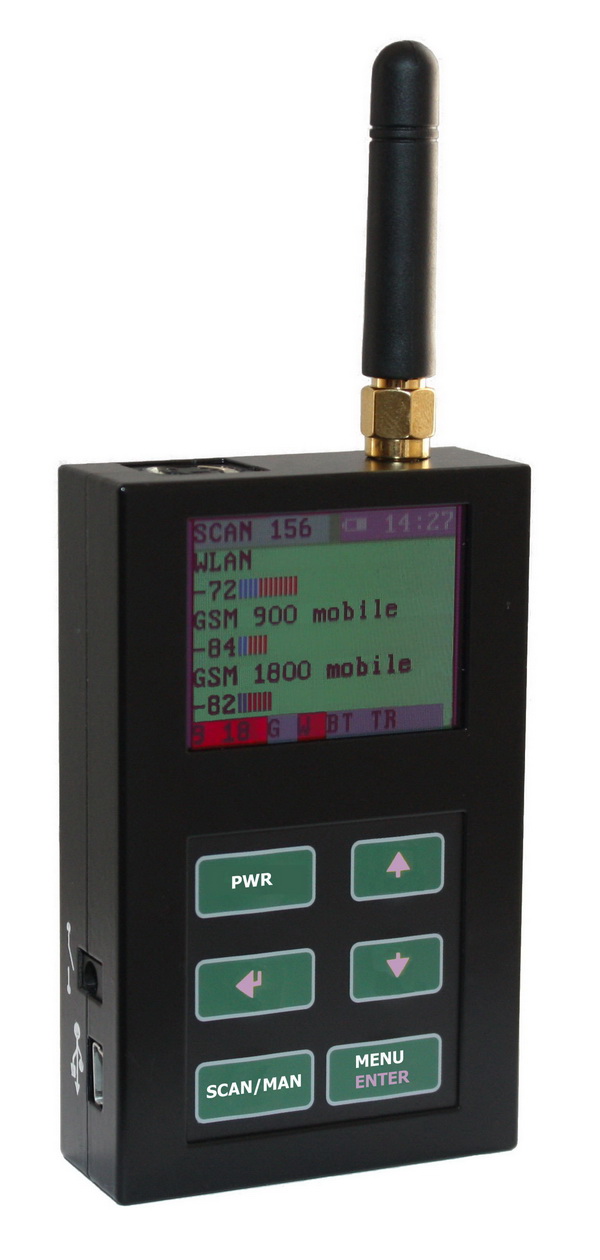 RF detector ST-165 has been discontinued and replaced by ST-167. Please visit ST-167 page for latest information.
ST 165 is designed for detection and identifying mobile radio transmitters of cellular communications standards (mobile phones and modems of GSM 900, 1800, UMTS), wireless data transmission (WI FI and BLUETOOTH) and cordless phones (DECT). Additionally indication of base stations power signal strength and data exchange intensity is provided. From now forward all of specified units will be unified as DRTD – Digital Radio Transmitting Devices.
ST 165 operates on the basis of direct-conversion receiver. To detect signals, the ST 165 scans a series of frequency ranges of the known transmission standards. The user can set up the detection threshold and the number of desired frequency bands. Signals identification is performed on basis of analysis of detected signals time parameters.
---
AUTOMATIC MODE
This mode is intended for DRTD automatic detection when it exceeds the operation threshold set by user. Signal data are logged. Scheduled work is provided.
Short names of digital data transmission standards chosen by user for the work. If the alarm threshold is execeed then the background of the name is highlighted red.

| | |
| --- | --- |
| 9 | GSM 900 |
| 18 | GSM 1800 |
| 3G | 3G (UMTS) |
| W | Wi-Fi (WLAN) |
| BT | BLUETOOTH |
| DT | DECT |
| 2.4 | devices, other than WLAN and BLUETOOTH, operating at 2.4-2.485 GHz range (for example, wireless surveillance cameras, etc.). |

32-segmental indicator signal level meter.
Signal level numerical value, dB.
Names of digital data transmission standards
---
MANUAL MODE
This mode is intended for detection of
location of DRTD;
threshold levels value for following use in AUTOMATIC MODE.
In this mode indication BASE STATION signals level is provided.
| | |
| --- | --- |
| | Change in time of signal level (TIME DIAGRAM) |
---
LOG VIEW
This MODE is desined for viewing the log of events . Time of event, its duration, type of event, signal strength are displayed.
Detected standard
Threshold of ALARM
Information on event
Viewed event No./Amount of events in the bank
Viewed bank No./Amount of used banks
---
ADDITIONAL POSSIBILITIES
Adjustment on "local" frequencies of standard UMTC immediately by user
Built-in Relay (terminals on the external port) Extends the functionality of the ST 165 to remotely control jammers and additional indicators.
SPECIAL SOFTWARE "ST165 ANALYZER"
The software is intended to:
time graphic display of data and the results of operation of the ST 165;
the ST 165 remote full control via ETHERNET;
firmware updating via internet.
---
Specifications
Frequency ranges, MHz
890-960
1710-1900
1940-2144
2400-2600
430-465 (with ST165.CDMA version)
Level ranges of displayed signal, dB
890-960 MHz
2400-2600MHz
1940-2144MHz
1710-1900MHz
Alarm level setting range, dB
60
Built-in power supply
Li Pol 3.6V
Indication
Color OLED Display 160X128
Consumption current, mА
300
Dimension main block (without antenna), mm
90x54x21